I Remember You: A Grief Journal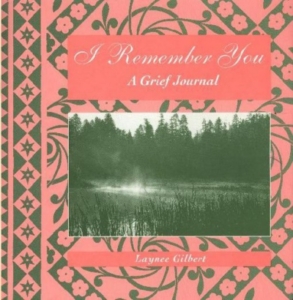 I Remember You: A Grief Journal combines beautifully illustrated journal pages with moving quotes and thoughtful, comforting advice that will support anyone working through the cascade of emotions that follows the death of someone close. Each page invites the reader to explore the thoughts and emotions that emerge; record dreams and special memories; say through letter-writing what was left unsaid; and slip in a precious photo or memento to create a very personal keepsake book that will be treasured forever.
ISBN-10: 0-9678966-0-6
ISBN-13: 978-0-9678966-0-1
$15 • 166 pages • 7×7 • Hardcover
Order directly from L.O.A. Publications and get 20% off and no shipping charges within the U.S.
An eloquent treasury of art and heart that will bring solace and support to all grieving hearts. Laynee is to be congratulated for this insightful, compelling book. 
– Earl Grollman, author of Living When a Loved One Has Died
After my five-month-old son died of cancer, I found the perfect book for me which in turn became a wonderful book to share with many families – I Remember You: A Grief Journal. I thank Laynee Gilbert for helping to guide me in my journey, for empowering me to help others who have suffered a similar loss and for reaching out to all who wish to find hope and peace in the shadow of mourning.  
– Linda Crawford, founder of the Zachary Mauro Crawford Tribute Fund in Pediatric Oncology at the Dana Farber Cancer Institute in Boston